Last Updated on August 31, 2020
This post contains affiliate links. Please see our Disclaimer Policy.
10. Glass Jar Lights
Candles are one of the easiest ways to add a festive atmosphere to any home for just about any occasion. Round up a few jars and get creative with paint, tissue paper, decoupage, tape and permanent markers. You can easily make them to match your Halloween decor, and the kids will really enjoy making them with you! Read more here.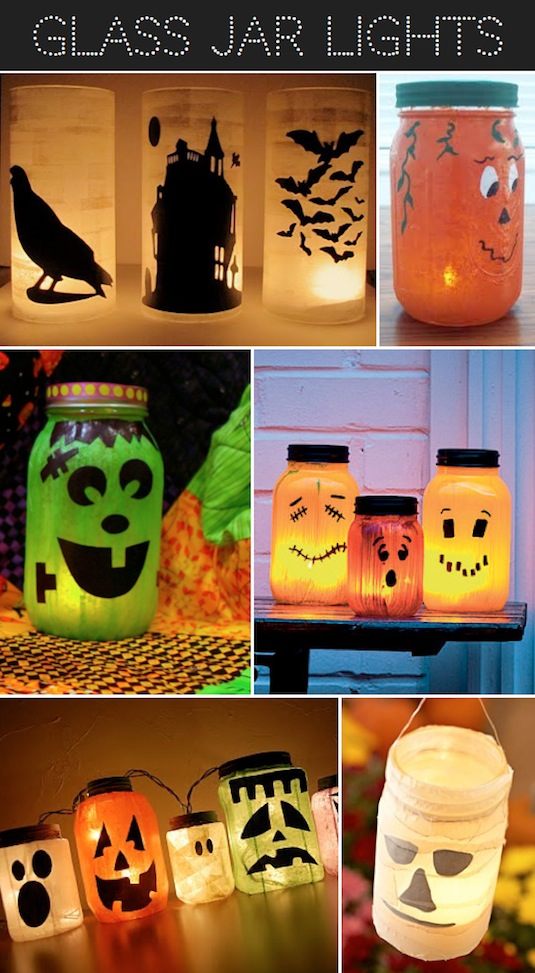 11. DIY Halloween Door Mat
Customize your own Halloween door mat with just about any stencil! You can spruce up an old door mat or buy one with a blank canvas. Just surround it with a few pumpkins, and you've added a touch of subtle festivity to your front porch. Check out the full instructions here.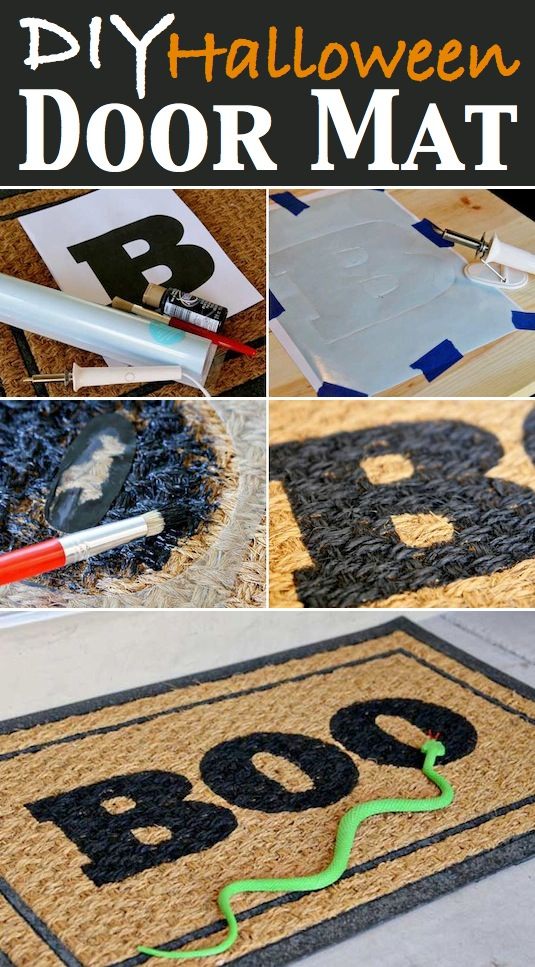 12. Huge Black Spider
Start Halloween night off right by greeting your trick-or-treaters with a huge black spider! I like this idea for a large shrub or bush covered in spider webbing. A milk jug (with the top cut off and cleaned thoroughly), black Duct tape and black pipe insulation is all you will need to make this eight-legged friend.
Tips:
You can also use spray painted styrofoam balls in place of the milk jug (one large for the body and one a little smaller for the head).
Glue feathers from a black boa all over the body to make it hairy!
Cut small triangles out of the pipe insulation where you want the legs to bend, and then use duct tape to secure it in a bent position.
Use ping pong balls or large googley eyes for the eyes, and add detail to the body with paint if you'd like.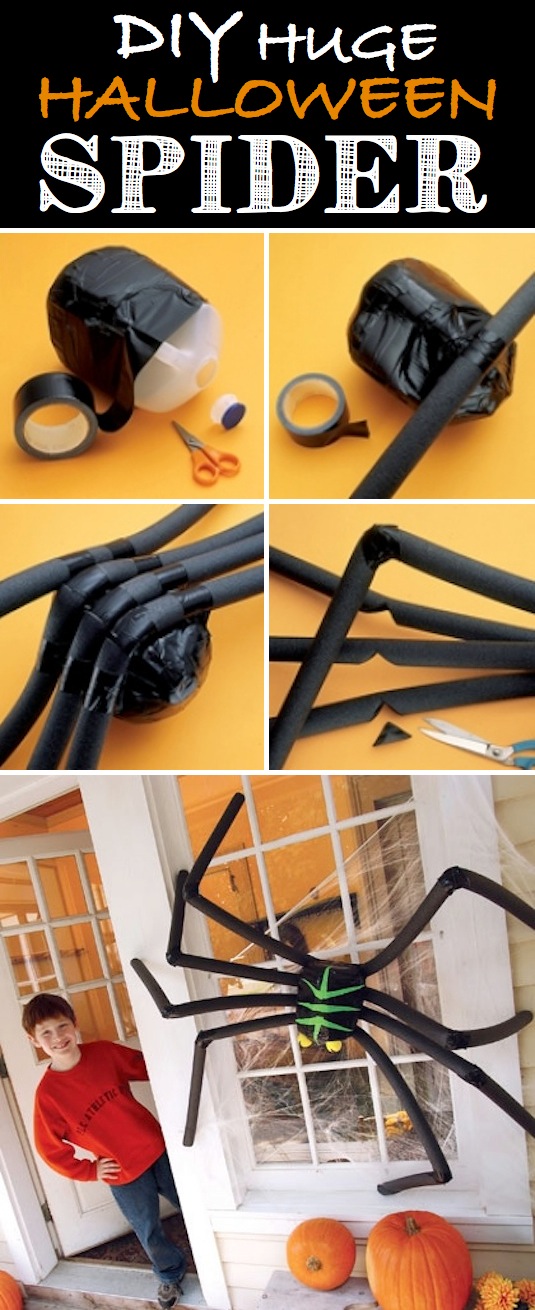 13. Frankenstein Door
I'm not suggesting that you paint your door green, but this Frankenstein door is too cool! The project itself will cost you under a buck, and for the ease and low cost, it sure does create a big impact! Check out how it was done here.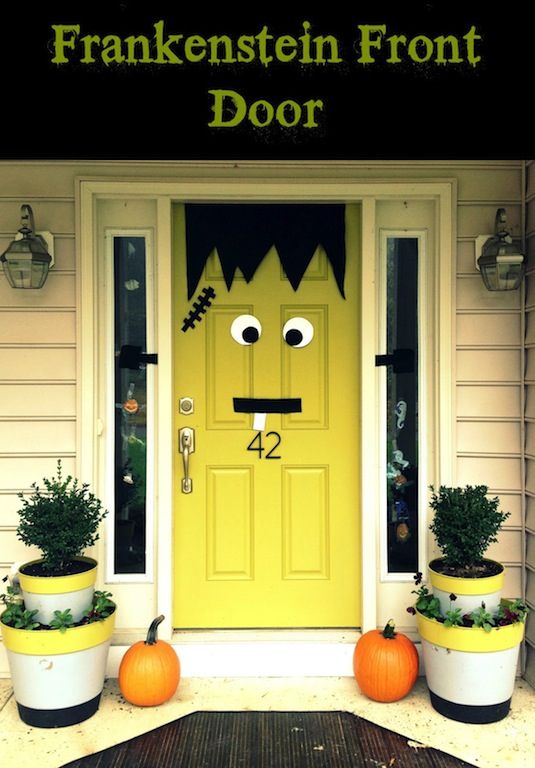 14. Trash Bag Spider Webs
You don't even have to bother leaving the house for this super cute and thrifty Halloween craft. A few black trash bags and scissors will do the trick! They look really cool hanging in front of the window, and they create a nice silhouette in the window at night. Check out the instructions over at Fast Forward Fun (one of my other blogs). 🙂

I like this project so much I made a little video tutorial:
15. Mice Silhouettes
Place these little critters running along your baseboards, adorning your staircase, and running up the walls! Just black paper and double sided tape! It's super easy with this free template from Martha Stewart.

16. Halloween Window Decor
If you want something that really stands out this Halloween, window silhouettes are easy and really impressive! You can purchase them at party stores or make your own cut-outs on black paper or cardboard. There is also a large selection to choose from on Amazon. I purchased a few of these a couple of years ago, and after it's attached to the window with a bit of tape, that's all you have to do is turn your lights on! I'm going to do some experimenting on the windows by my front door this year with black birds and tree branches.

17. Movable Mummies
These creepy yet adorable little mummies are made with just 2 simple materials! They're so easy to make, even the kids will have fun putting them together. You can assemble them as little or as big as you would like, and then add them to your Halloween decor. They're fun to play with too! Check out the full instructions over at Fabbri Designs!

View the entire list of 16+ Awesome Homemade Halloween Decorations.
---