Last Updated on May 28, 2020
This post may contain affiliate links. Please see our Disclaimer Policy.
3. Elegant Christmas wrapping with sheets of music.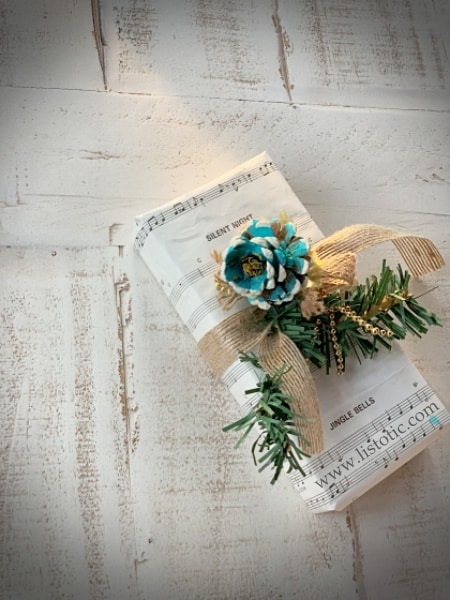 Andrea's Inspiration
My inspiration came from one of the many inspiring images at MissMustardSeed.com
Andrea's Wrapping Project
Materials Needed:
Sheet Music
Pine cone
Paint
Greenery
My kids broke my 90's Yamaha Portable keyboard (raise your hand if you had one of these!) Gone are the days of pretending to jam-out to "HEY JUDE" and "YESTERDAY" jingles. I was left with the sheet music that came with it. Like any crafter (or mild hoarder) would do…I kept it; just certain it would come in handy someday. Since I never actually learned to play the keyboard or cultivate any sort of music talent whatsoever….why not cut it up and use it for creative wrapping paper! (Of course after a firm lecture to my kids about being more respectful to their toys.)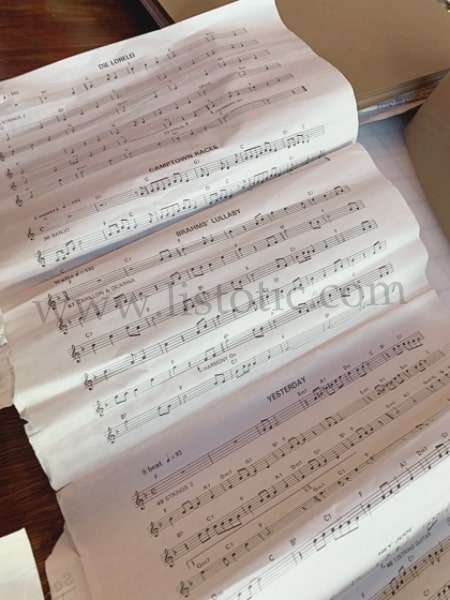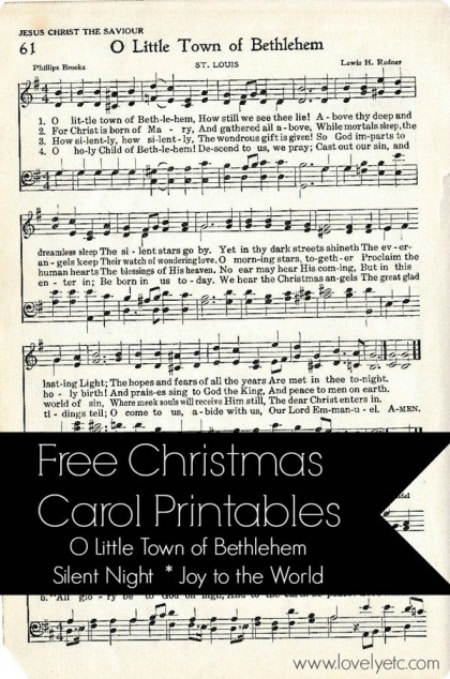 If you don't have retro 1990 portable keyboard music sheets like me, Carrie at Lovely Etc… can hook you up with free Christmas carol printables. Or, head to your local Salvation Army, thrift shop, garage sale, or Goodwill store. Wrapping a Christmas gift in sheet music gives your gift elegance (even if you wrapped up a pair of socks) and can even be personalized by the type of music you decide to use. Sweet Caroline – for instance!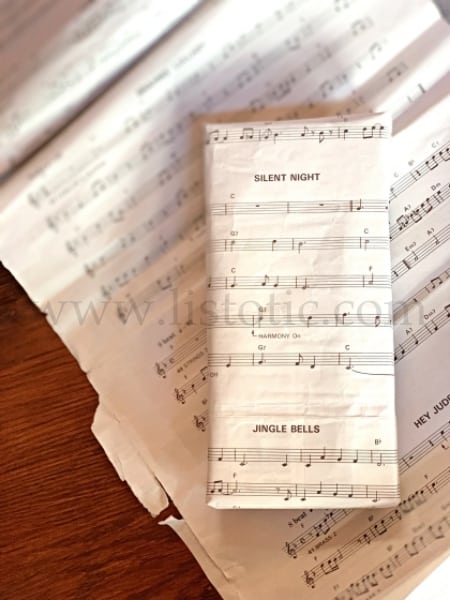 I wanted the topper on this gift to be bright yet natural. I was inspired by the pinecone transformations in this post by: A Fanciful Twist.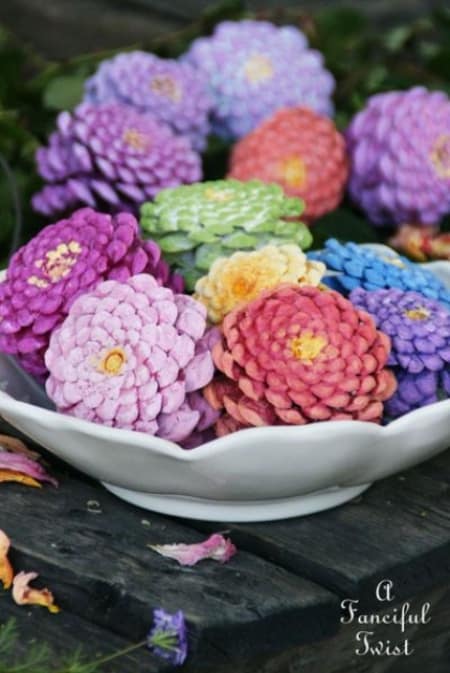 Mine didn't look nearly as beautiful but it had the pop of color I was wanting for the topper on this gift that was otherwise black and white.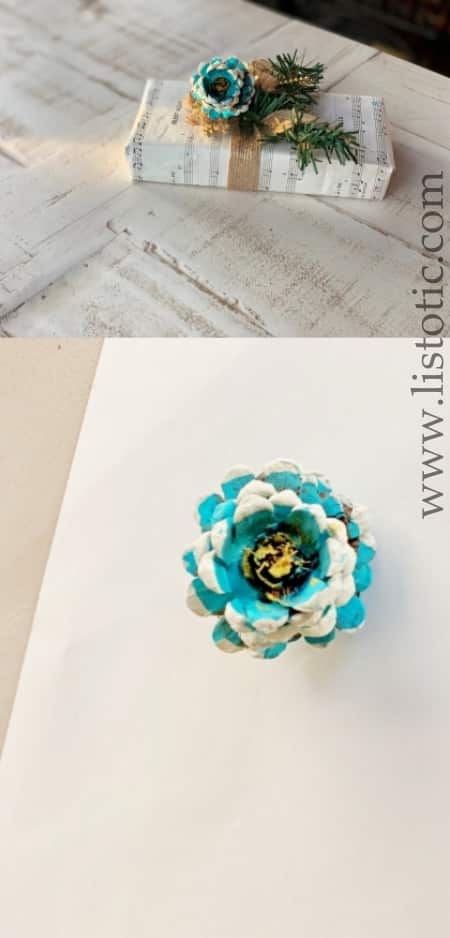 Andrea's Final Package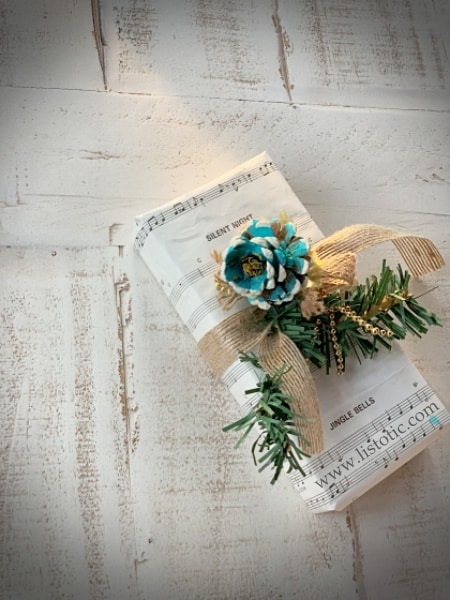 4. Kid's coloring book with Santa boots bow.
Andrea's Inspiration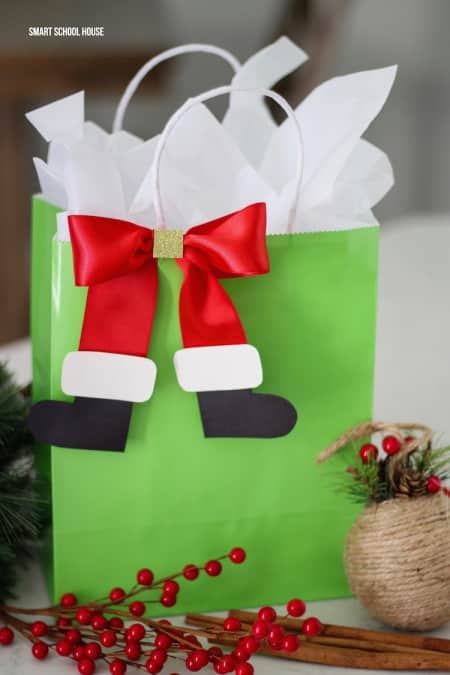 I would recognize those legs anywhere! Only at Christmas time can crafting the resemblance of an old mans lower body half be fun gift topper – sorry but it's true!
This bow could go on a gift bag, ornament, wreath, card and so much more! There are 3 things love about what Kelly did to create this Santa's boot bow…
It only took a plain ordinary green gift bag you can find at the dollar store and made it a unique Christmas gift bag that is sure to get someone to Oooh and Ahhh at the Christmas party. You could also make you own gift bag! Watch here:
I love it because it is so easy! Everyone knows what Santa's legs look like…just a little black, white and gold paper added to a red bow and it you can immediately recognize who it is.
I'm in awe on how they covered the knot! I was simply blown away by this genius idea – covering a not-so-perfect bow knot with a small square of glittery paper…Brilliant for non-skilled-bow-makers like me! Check out how Kelly did it at her website SmartSchoolHouse.com
Andrea's Wrapping Project
Materials Needed:
Construction paper
Large coloring book pages (or Kraft paper, or other wrapping paper)
Ribbon
This year I found a giant coloring book to keep my boys busy during a family vacation trip. They loved that the pages were so huge the entire family could color at the same time. Here is the coloring book I purchased.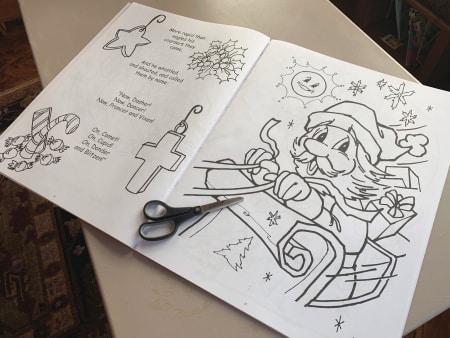 While coloring with the boys, I had the idea to use it as gift wrap! On this particular gift, I used a blank page so that the recipient could color the page themselves (it's the gift wrap that keeps on giving!). But, if this was for a grandparent or teacher, it could be personalized by having the child giving the gift color the page first before wrapping. Be careful! If you're not keeping it, don't let the kids see you throw it away with the other used wrapping paper – they might be heartbroken!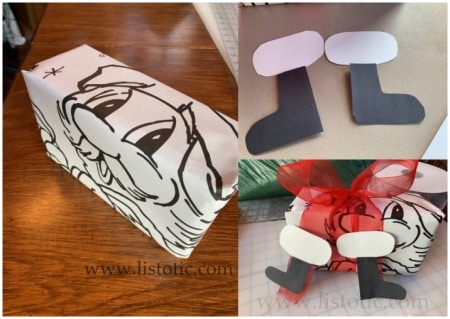 Making the Santa boot bow was so easy. To start, I just took some red ribbon and tied it around the gift. Follow the instructions here for cutting the boots.
I couldn't find my gold glitter scrapbook paper (I just know it's buried somewhere in my office closet!) But, I was able to make a belt imitation using a square frame of black construction paper with a yellow rectangle threaded through the loop.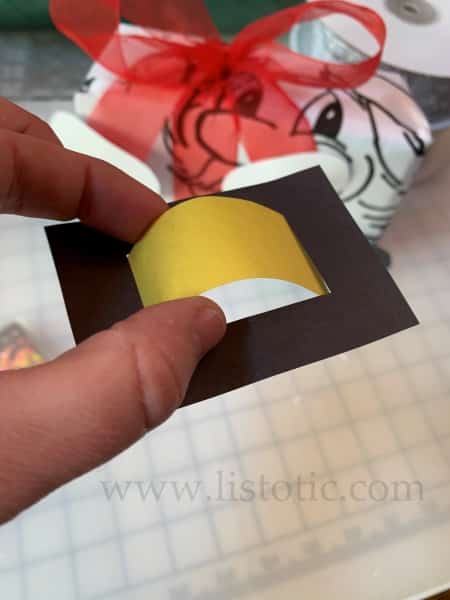 I was doing this without the "help" of kids, so hot glue was my adhesive choice. I'm sure a fabric glue or Elmer's would work too… probably depends on your ribbon material.
Andrea's Final Package
HO HO HO! Just check out those legs! Kids or adults would be delighted to receive a gift using a giant coloring book page with a Santa boot bow.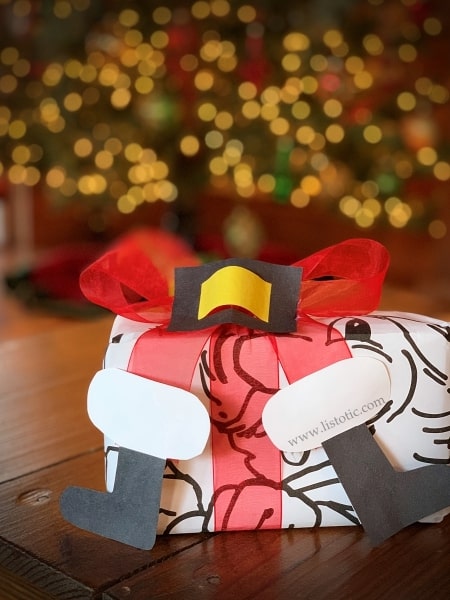 5. Doilies, Pinecones & Feathers — OH MY!
Andrea's Inspiration
Pull out that craft box, because here is your chance to make something spectacular out of your past project leftovers. Just look at how these professionals used simple pieces to create elegant gift wrap.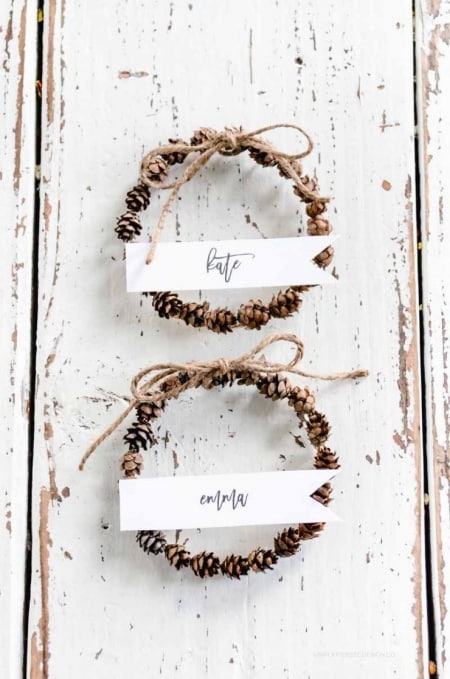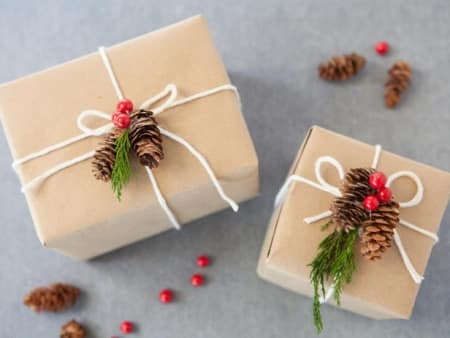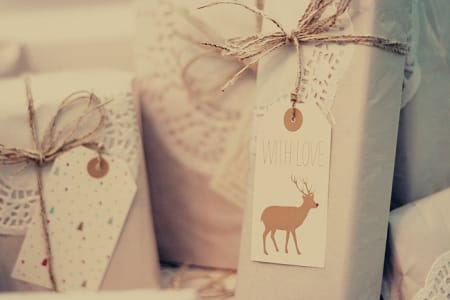 Andrea's Wrapping Project
Materials Needed:
2-3 Feathers
Pine cone
Just let your combination of ideas run wild! I decided to use an 8 inch doily to wrap one side of the gift half way around the top and bottom of the gift. I used hot glue to attach the doily, but two-sided tape would have done the job just fine. The green garland ribbon came in a large quantity and was super easy to use.
In place of a bow I added a pine cone and a party favor (twig pencil with fake feathers taped with gold washi tape) left over from my son's 6th birthday party.
The combination of ideas and materials; makes this gift a beautiful addition under the Christmas Tree.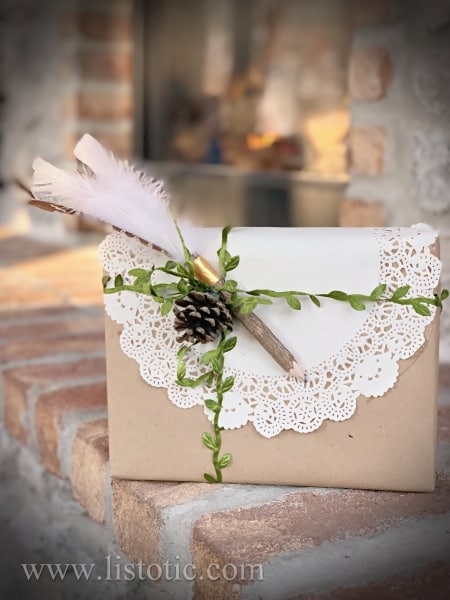 Andrea's Finished Package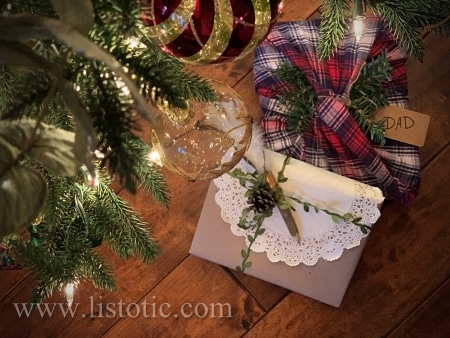 View the entire list of Creative Ideas for Wrapping Gifts.
---