Last Updated on May 28, 2020
This post may contain affiliate links. Please see our Disclaimer Policy.
10. Eco-friendly Scarf Gift Wrap
Cammie's Inspiration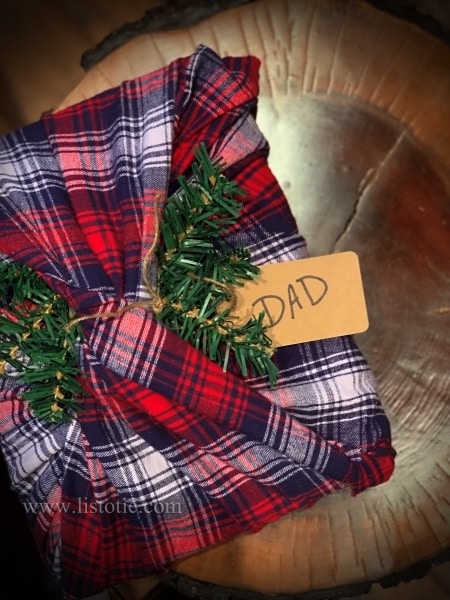 As the weather turns colder, we pile on the coats, hats, mittens, gloves and scarves. What a great way to give a gift of a scarf, use it as wrapping paper for a pair of gloves! My inspiration came from Heathered Nest. They have a cool image of all of the steps to make this a sure hit for wrapping.
Cammie's Wrapping Project
Materials Needed:
Scarf or Flannel Fabric
Greenery
Since I didn't have a scarf, I made one. I found a plaid flannel piece of material at home and cut 4" strips on each end for the fringe, and used it to wrap the present. To wrap the present, place the package face down on the material, twist the material and wrap it around the backside of the package. Make sure the front has a twist knot and the back is flat (the bottom left picture shows the backside of the package). Next, with the package face up, bring the ends of the scarf around to the front and tuck the ends under the twist knot.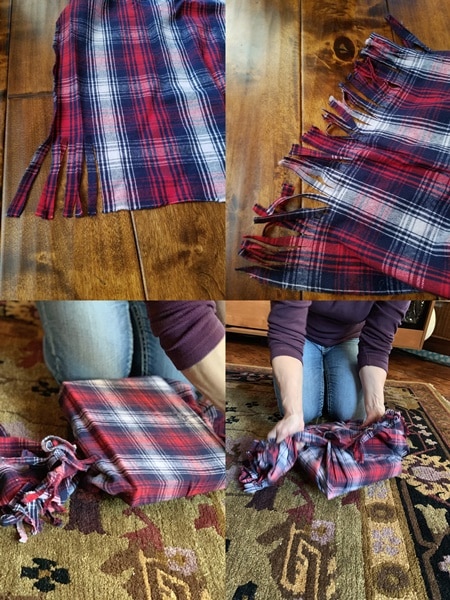 The biggest challenge is to make sure the entire present is covered with the scarf. In fact, I had to find a smaller box for the gloves. You will also have to tuck the scarf under the twist on the top of the box to make sure it is covered.
Cammie's Final Package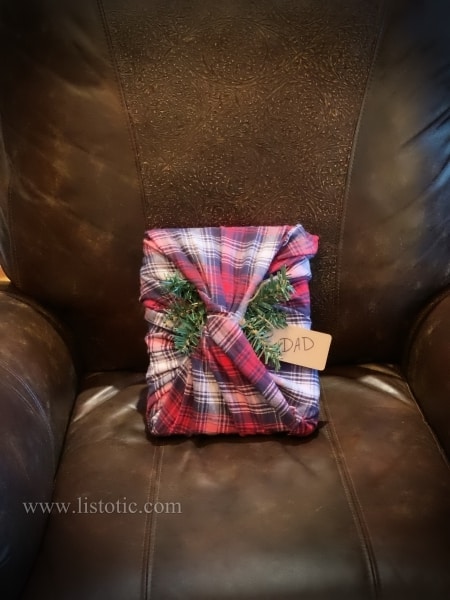 11. Accordion Christmas Tree
Katie's Inspiration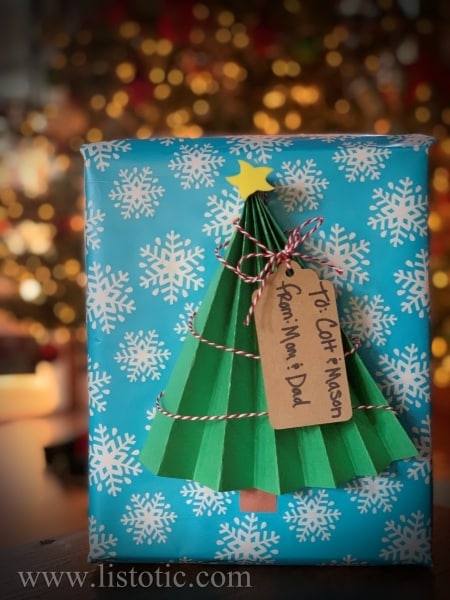 This accordion tree wrapping caught my eye. I found the inspiration at DIY n Crafts. The trimmings on their 3-D accordion tree are worth a peek! Unfortunately, I didn't have the supplies and had to improvise. But, I think the baker's string works, too.
Katie's Wrapping Project
Materials Needed:
Construction paper
This was one of my favorites to put together.
Start with a piece of construction paper, and fold it back and forth about 1/2″ wide. When putting this together, I found it best to use a hot glue gun to securely adhere the Christmas tree to the wrapping paper. Lastly, wrap the string of "lights" and top it off with a felt star!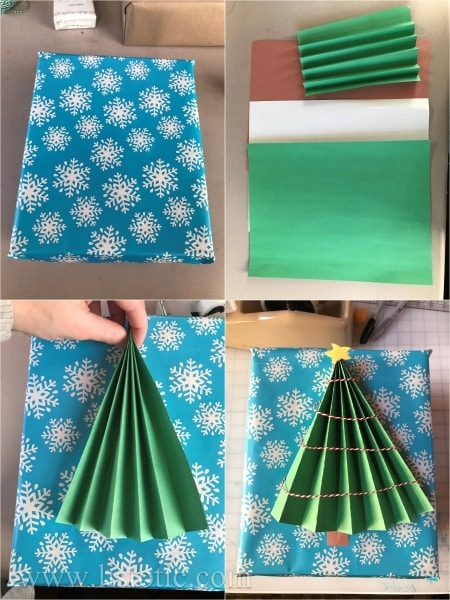 This looks like it took a lot of work, but it was really very easy!
Katie's Final Package
I love the pop of color this one brought under the Christmas tree.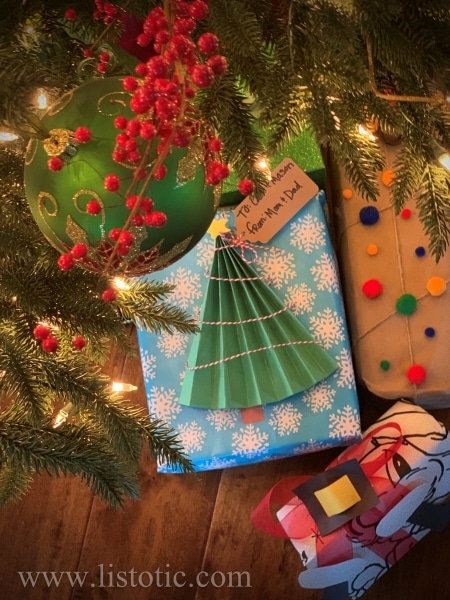 12. Personalized Photo Gift Wrapping
Andrea's Inspiration
I'm a picture person; so this gift wrap idea is right up my alley. I was drawn to the post at – These Four Walls. Here Abi used her beautiful Instagram photos to create a personal twist on her packages.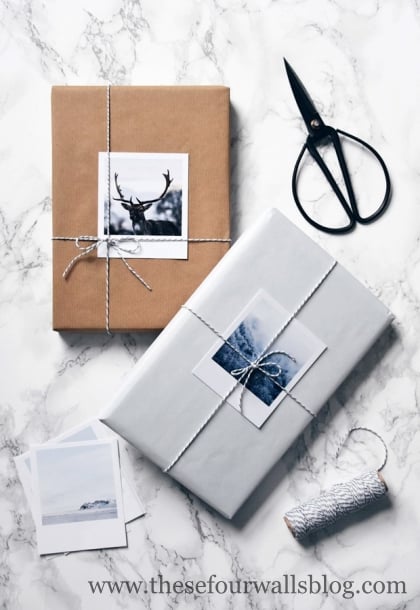 I think you could go two different ways here… you could either spend extra to make this photo gift topper part of the gift by purchasing a professional photo product; or you could inexpensively print on copy paper and simply make the package more attractive but not expect the receiver to necessarily keep the photo on top… although they might!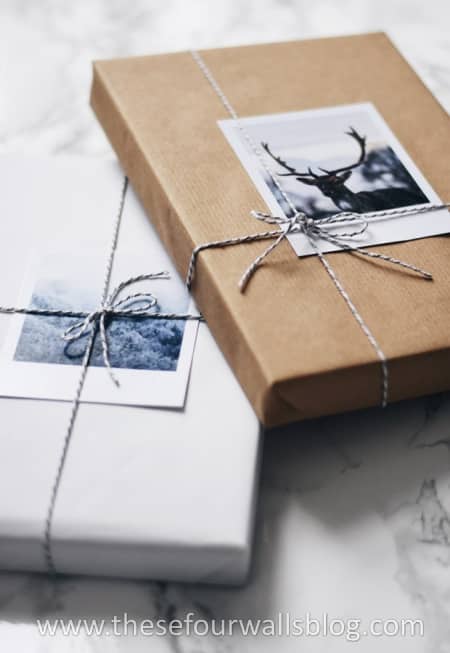 I haven't had a chance to try this out yet, but I just know that my husband's Grandma would adore an old photo of the local historical Stone Bridge where she raised her family as the gift wrap to her Christmas present.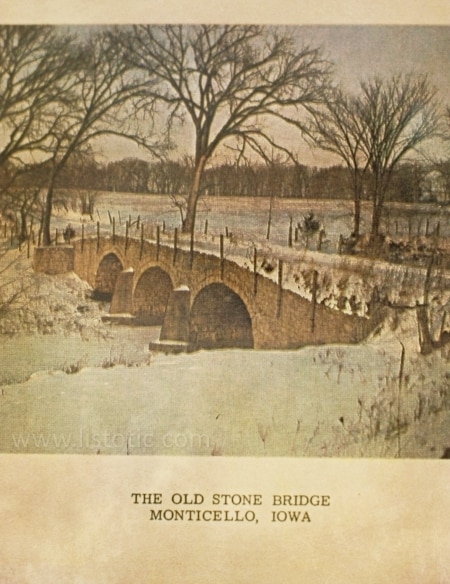 This is "a photo of a photo" that was in an old scrapbook. I opened my favorite easy photo software PhotoScape to give this image even more of a vintage appearance by using different film layers and color adjustments.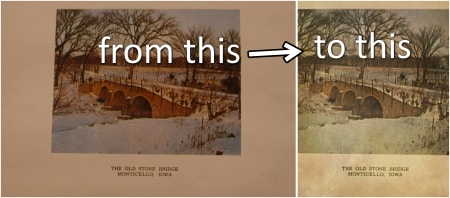 Make sure if you are going to take the time to edit and print images, you are gifting to someone who likes to take their time unwrapping their gift. You know they will appreciate the extra thoughtful touch!
Another fun photo wrapping paper idea involves printing your own rolls of wrapping paper out of photos. Here are some places you can special order from photo product sites like pinpaperpress.com, Zazzle.com and Collage.com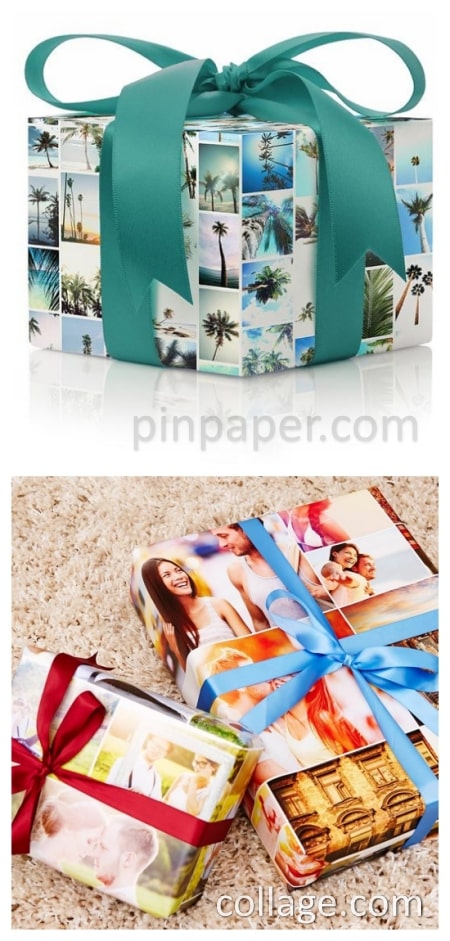 View the entire list of Creative Ideas for Wrapping Gifts.
---